We welcome new members! Check our calendar of events for the next membership meeting?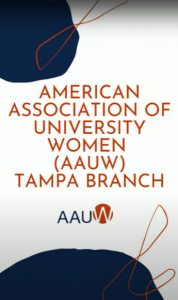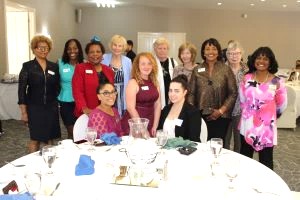 Anyone with an associate or higher degree can become a member of AAUW. Below two members of the Tampa chapter talk about what membership has meant to them.
Download and print an application (PDF)
---
Members' AAUW Stories
Meet Gloria Hilton: Tampa Branch Director of Scholarships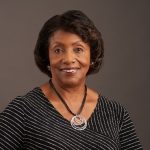 Gloria L. Hilton, DNP brings invaluable experience to the Tampa AAUW Affiliate. She is known for her organizational business acumen, leadership, and commitment to seeing projects through to fruition. Additionally, she brought experience to her current position of Director of Tech Trek and STEM Activities. She was the STEM Mentor for the VA Hospital with Young Middle Magnet School. She is currently working part time for The Commission of Accreditation for Rehabilitation Facilities (CARF) International as a Surveyor in Behavior Health. Dr. Hilton has been a member of Tampa AAUW since 2015.
When asked why she jointed AAUW, Dr. Hilton said," I joined AAUW because of its commitment to empowering women and the nine key program areas. These are areas of interest to me and I'm concerned to see how I can contribute… I joined with the expectation to be an active member and to help the Tampa Affiliate be all that it can be…" She said she has kept interest "because of the creative leadership, the commitment and dedication of the members, and the opportunity to increase my knowledge."
When asked about her accomplishments, Dr. Hilton reported, "God has blessed me with many wonderful accomplishments of which includes my career as a Registered Nurse and Health Care Administrator. I achieved undergraduate and graduate degrees in Nursing including a Doctorate in Nursing Practice. Additionally, I hold several certificates in religious studies. It has been a joy to serve others through Nursing and other community activities. " . She generously shares her knowledge through workshops and or presentations relative to spiritual care and health care. Additionally, she has designed and presented numerous ethics programs including programs addressing Compliance Ethics. Furthermore, Dr. Hilton has added to her knowledge-base through her travels including trips to Israel, Switzerland, Austria, Germany, South Africa and Peru.
In closing, Dr. Hilton said she is enjoying being a member and is looking forward to exciting endeavors ahead. However, she said she would like to see the Tampa Affiliate increase its membership and provide more STEM programming.
Other Affiliations:
Dr. Hilton is a member of St. James United Methodist Church, Tampa, FL (also a Certified Lay Servant Minister of The Florida Conference of The United Methodist Church), Sigma Theta Tau International Honor Society of Nursing, Tampa Uptown Ladies Investment Partners, Albany State University, Albany, GA Tampa Alumni Association, Case Western Reserve University, Cleveland, OH Dean of Nursing Board Member and Adjunct Assistant Professor -Frances Payne Bolton School of Nursing, Case Western Reserve University, Cleveland, Ohio.
---
Scottie Fingar: Energetic and Committed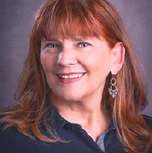 Scottie Jacob Fingar is an Advanced Board-Certified Holistic Nurse and Nursing Educator. She is in her fourteenth year as a faculty in the nursing program at Hillsborough Community College. This year is her first year of membership with AAUW Tampa. One of her former nursing instructors and now a colleague suggested to her that Tampa AAUW is an organization worth joining. When asked what her expectations were when she joined Tampa AAUW, Scottie said," Other than wanting to be a part of a group of women supporting women of all ages… I came in with fairly open expectation"… the good company, engaging participants, and good leadership has kept me interested" Additionally, Scottie answered the call to help the branch work through its current transitional challenges by accepting the position of the 2017-2018 Director of Public Policy.
Ms. Fingar is a very energetic and highly accomplished member. She says one of her greatest accomplishments was authoring a holistic nursing book titled Therapeutic Breathing: Resources for Healthcare Professionals (and the Rest of Us). The book was published in 2013. She also maintains a license as a massage therapist. During the more than eight years she lived in Saudi Arabia, she was able to offer therapeutic massages to female clients, couples, and babies. Furthermore, Scottie designed and delivered two therapeutic groups, "Breathing for Stress Management," based on mindfulness meditation techniques, and "On the Recovery Path: Stages of Change."
Ms. Finger is married, has no children, and is also affiliated with the American Holistic Nurses Association and the American Business Women's Association. She is world-traveled and in addition to having lived in Saudi Arabia and Jamaica, she has traveled to Cuba, throughout the Middle East, Europe, and Asia.
Scottie said, "I have been interested in integrative and holistic health ideas since I was a teenager, and dream of having an Integrative/Holistic Nursing practice sharing and teaching some of the helpful things I've learned."
---
Jacqui Vento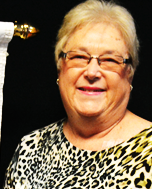 After Jacqui Vento's daughter went away to college, she began looking for stimulating and interesting groups in the community. Jacqui was looking for groups with interesting programming and friendly ladies. After seeing a Tampa AAUW community press release in a local newspaper, she made contact and attended her first meeting. She was so impressed she joined right away. Jacqui has now been a member for about seven years.
AAUW's mission is to advance equity for women and girls through education, advocacy, philanthropy, and research, So one of the most important goals AAUW Tampa accomplishes annually is to provide two upper-level University of South Florida (USF) STEM students with a scholarship. As the Director of Scholarships, Jacqui oversees the Scholarship Committee application process. She has led the committee for three years and has been a member of the committee since joining Tampa AAUW seven years ago. Jacqui said "The position changes every year as the number of applications varies, the majors change- the students are fantastic!"
When asked where she would like to see Tampa AAUW go from here, Mrs. Vento said she would like to see the 100 plus year legacy of Tampa AAUW continue by growing its membership through offering interesting programming that would help to recruit and retain new members. Jacqui also said, "I think we serve a purpose in providing STEM scholarships at USF, and now we are getting more involved with Tech Trek".
After the birth of her daughter, Jacqui retired in 1991 from what is now known as the Department of Family Services. In her management role, she was required to oversee several district-wide programs for a five-county area. Additionally, Jacqui has been a substitute teacher since 1996. She said, "I like the flexibility of working when I want to work, although they prefer subs work at least three days a month."
Furthermore, Jacqui is involved in other affiliations such as Las Damas de Sant Yago, Mary Lee's House (MLH), and the Children's Closet. Las Danas is the lady's auxiliary to the Krewe. Jacqui has been a long-time member of Las Damas de Sant Yago Auxiliary. She also served six years as the recording secretary for the auxiliary. Additionally, Jacqui he is also a member of Mary Lee's House Auxiliary. MLH supports abused and neglected children by having a central location where children can be temporarily placed when removed from their homes. It is not a foster home, but a place where the child can be seen by doctors and child protection workers, get counseling, do court related depos, etc. without having to actually go to court. Every child seen is given a new backpack filled with new clothes, shoes, undies, socks, and usually a toy or a book. Additionally, Jacqui was co-chair of the Children's Clothes Closet for one year. The task of the Children's Closet was to maintain a closet of 5 outfits per size, including shoes for both boys and girls. Jacqui said, "That was a huge job!" MLH also has an infant's closet with clothes, formula, and diapers
Mrs. Vento has been married to John her attorney husband, for nearly 45 years. She and her husband have one daughter, Christi who is also an attorney.
---
Irene Bembry: On the Town Special Interest Group Leader
Irene Bembry has been a member of AAUW for twelve years. She says a friend introduced her to the organization and took her to a couple of meetings. She was then "hooked" because she believed in the AAUW mission. Her expectations for joining included meeting other women who were well-traveled, interested in politics, and concerned about the education of other women. When asked what keeps her involved in AAUW, Irene said" The company of like-minded women". She has formed alliances and lasting friendships throughout the years.
Irene identifies the feat of earning a master's degree in nursing at age 59 as one of her greasiest accomplishments. Shas been a nurse for several years and has broadened her horizon by working as a nurse in other countries. She lived and worked in Saudi Arabia on two different occasions for a total of ten years. She is currently helping to build another generation of nurses as an instructor at Galen University in Saint Petersburg, Florida.
As a past president, and Director of Programs of Tampa AAUW, Irene has an opportunity to see the organization up close. She has a clear vision of what she would like for Tampa AAUW. She said she would like to see Tampa grow a larger membership and continue its legacy by becoming more widely known in the local community. In support of her wishes, she works tirelessly to recruit and mentor new members.
Additionally, Ms Bembry is involved with Transcultural Nursing Association which focuses on the care well-being, and social justice needs of patients from other countries, including housing, or issues with incarceration and homelessness. Ms. Bembry is divorced and has one adult daughter who shares her mother's passion for getting to know and live in cultures abroad. Her daughter lives and teaches in Northern Iraq. Her hobbies are traveling, horseback riding, and hiking. She says she has five dream trips on her "bucket list"- Machu Picchu, Australia, New Guinea, Brazil, and areas around the Amazon River.
---
Long Time "Go to "Member: Sherry Foecking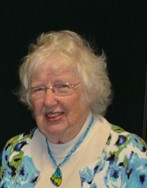 Sherry Foeking has been a member of AAUW Tampa for over 40 years. She joined the Tampa Branch in 1967 shortly after moving to Tampa. Prior to her moving from Cleveland to Tampa, Sherry was a member of a College Club Ladies group. When she moved to Tampa, she was looking for a similar group. AAUW fit the bill. For a while, children's activities and getting a master's degree at the University of South Florida (USF) kept her from taking the active role she wished to have taken. However, Sherry has never stopped working to advocate for and empower women and girls. Sherry has been a "go to" member and mentor to many others coming after her. She says the friendships she has built and maintained through the years has been the driving force behind her staying in AAUW for so many years. Sherry said many of the members became and remain her dearest friends. She said" They are my fondest AAUW memory" Sherry has been at the infrastructure of the building of this AAUW branch for many years. She served as president or co-president six times and as Newsletter editor for over 25 years- until the spring of this year.
Sherry began her career by teaching reading and study skills to Jr. High boys and girls at Academy of Holy Names in Tampa but switched to teaching them to use computers in 1980 before retiring in 1994. After retiring, she remained active by teaching computer skills for professionals at a local store for a major computer chain. In addition to being active with AAUW, she volunteers at Osher Life Long Learning Institute (OLLI), teaching technology and writing computer class manuals.
Sherry has many interests that seemingly keep her vibrant and "in touch". For instance, she loves animals and currently has a tuxedo cat, Nefurtiti. She is fascinated by computers, technology, and enjoys reading, swimming, and having lunch out with friends. Incidentally, at one time she played the violin; she shares this gift with at least two other Tampa Branch members. Additionally, Sherry is involved in the Sacred Heart Church Ladies Guild, Catholic Women's Club, the Alum group of Kappa Kappa Gamma, and Plant City Woman's Club.
Sherry has three adult children, a son Mark, recently retired from University of Missouri, a son Eric, and a daughter Lisa. She refers to her grandsons as "wonderful" There is also a "gorgeous and brilliant" two-year-old great granddaughter. Sherry was married to the now deceased, Ralph Foeking, a chemical engineer. She is proud her oldest grandson followed in his grandfather's footsteps by also becoming an engineer.
Sherry is not sure she has a "life motto" But she has set this daily goal for herself. She said, " Every day I do two things that I should do and do not necessarily want to do and one thing just to delight me!"
---
Joyce Ellsworth: The Former Financial Officer's Story
Joyce Ellsworth has been a member of the Tampa AAUW branch for 28 years. She was introduced to AAUW by her college professor at the University of Iowa, in the 1960's. Joyce says the Iowa women professors at that time were busy integrating the men's only faculty club and dining room and in the movement to tenure women professors. Following these issues, in the 1980's, the University of Iowa installed the first female president.
Mrs. Ellsworth joined the Tampa branch at the invitation of the then King High art teacher, Geneva Meir, who later became president of the Tampa AAUW branch. Ms. Ellsworth says the invitation came at a time when she needed an adult group to associate with-not just any group, but a group with a purpose. After attending a few meetings, Joyce said she felt a "connection". She said, "Those were the days before computers and websites; so I am not sure just how many issues were addressed but I do recall the ERA campaign and the push to help women enter careers that had traditionally been reserved for men-like engineers, lawyers, doctors, and even college presidents. "
Joyce said she is proud to have been a part of the Tampa Branch's focus on education for girls and women, through support of elementary school girls in projects such as MOSI summer camp, PACE schools in Tampa, and the current scholarship program for University of South Florida students.
Mrs. Ellsworth closed with a look toward the future. She said she would like to see the Tampa Branch, in addition to giving financial support to the state-level Teck Trek program, take an active role in selecting local students to represent the branch. Additionally, she said, "I look forward to seeing the Tampa Branch become more active in the community as well as in educational issues."
---
Avis Chaplick: A 50 year, plus member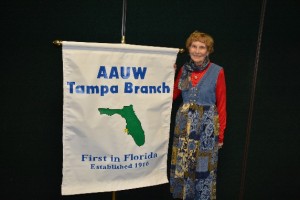 Avis Chaplick, the former Director of Membership has been an AAUW member for over 50 years. Soon after signing her first teaching contract, Avis joined the Burlingame chapter in a suburb near San Francisco. As her naval officer husband was transferred around the country, Avis, never forgot her ties with AAUW. She was a member of several chapters, including Ann Arbor, Michigan and St. Paul Minnesota. In 1976, when her husband was transferred to Tampa, Avis joined the Tampa branch of AAUW and has been a member ever since. When asked what being a member of AAUW meant to her, Avis said, not only did she meet her husband through AAUW, she said she was proud of the scholarships given to USF students, the programming, and the friendships…I am thankful for being a member.
---
Jean Eberhart: A nurse and veteran of the United States Air Force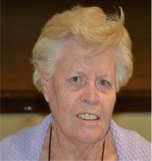 Jean Eberhart, Ret. Air Force lieutenant colonel, nurse, and Vietnam veteran has been a member of the Tampa Branch of AAUW for the past 8 years. Jean and several other veterans were recently honored for their service contributions in a program to commemorate America's 50th anniversary of involvement in the Vietnam war. Ms. Eberhart co-authored the book Shifting Sands of Cam Rahn Bay detailing her experiences in the region during the war. When asked what compels her to remain a member of AAUW, Jean said, the camaraderie, the opportunity for philanthropy through support of STEM activities and scholarships, and AAUW 's support of issues and public policies that contribute to women and girls quest to accomplish their life goals.