The Tampa Branch of American Association of University Women (AAUW) offers scholarships to Tampa area university students seeking undergraduate or graduate degrees in STEM (science, technology, engineering, and mathematics) programs.
The 2023-2024 AAUW Tampa Branch STEM Scholarship application opens in November 2022 for students who are Rising Undergraduate Juniors (Class of 2025), Undergraduate Seniors (Class of 2024) or Graduate Students for 2023-2024 academic year
Congratulations to the AAUW Tampa Branch 2022-2023 STEM Scholarship recipients! Keep reading to learn more about Emily Checchio, Jasmine Rodriguez and Julia Rodriguez, all future engineers, who are making a positive impact in both the classroom and the Tampa Bay community.
AAUW Tampa Branch 2022-2023 STEM Scholarship Recipients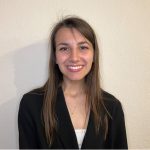 Name: Emily Checchio
Major: Biomedical Engineering
Hometown: Niceville, Florida
Graduation Year: 2023
Campus Involvement: Emily is a member of the USF student chapter of the Biomedical Engineering Society (BMES). This past semester, Emily was part of a research and development team for BMES, assisting in the development of a robotic arm that mimics movements of its user. This research was presented at USF's Annual Engineering Expo. Emily is also a member of the USF chapter of the Society of Women Engineers (SWE), which supports and empowers women in STEM related fields and encourages young girls to pursue engineering professions. In addition, Emily was selected for entry into the Judy Genshaft Honors college at USF. Only 600 students, 5% of each class enrollment, is awarded this learning experience that combines the resources of USF with the personal attention and close-knit community. This summer Emily will receive training to be a peer mentor for the incoming class of USF's Judy Genshaft Honors College. She will have the privilege of teaching the fundamentals of professionalism and assisting first year students in transitioning to college. In addition, through the Honors College, Emily will continue research on the ocular system with Christopher Passaglia, Ph.D, USF Professor in the Department of Medical Engineering. Knowing that keeping physically fit is essential in balancing a challenging academic course load, Emily is a member of USF's Running Club, having participated in several long-distance competitions.
Future aspirations: Emily's current educational plans are to finish a Bachelor's degree in biomedical engineering with a minor in Chinese. She plans to attend graduate school, earning a Master of Science in Biomedical Engineering. Her specialization will be in rehabilitation, manufacturing prosthetics and orthotics. Continuing a love of language, Emily will continue studying Chinese as well as Japanese and Spanish. Even after graduate school, Emily plans to take it to the next level enlisting in the Air Force and attending medical school. While it's a few years down the road, possible areas of study are vascular and orthopedic surgery. With a head full of knowledge and skill, Emily's desire is to travel around the world helping others and putting her language skills to good use.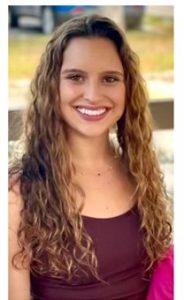 Name: Jasmine Rodriguez
Major: Industrial Engineering
Hometown: Palm Harbor, Florida
Graduation Year: 2024
Campus Involvement: At the University of South Florida, Jasmine is involved in the USF Tennis Club. She is a member of the Society of Hispanic Professional Engineers (SHPE), Society of Women in Engineering (SWE), Institute of Industrial and Systems Engineering (IISE), and the Tau Beta Pi Engineering Honor Society. She was initiated into the Tau Beta Pi Engineering Honor Society last year based on her high GPA/academic standing. In order to be eligible for Tau Beta Pi, student GPA must be among the top 1/8th of all juniors. A proud moment for Jasmine was being selected to serve on the Tau Beta Pi Engineering Honor Society Leadership Board as the Service Chair. This is an opportunity to grow and develop in the areas of leadership, communication, and planning skills.
Future aspirations: After graduation, Jasmine plans to work in an engineering company that benefits the world and helps people. As an industrial engineer, Jasmine's ultimate dream is to work with team projects, with an emphasis in improving systems while benefiting others. She is grateful for each step moving her closer to graduating and becoming a successful industrial engineer!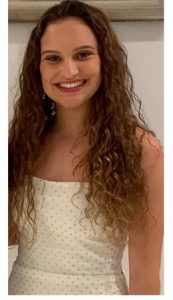 Name: Julia Rodriguez
Major: Industrial Engineering
Hometown: Palm Harbor/Dunedin, Florida
Graduation Year: 2024
Campus Involvement: At USF, Julia serves as the Image Chair for Tau Beta Pi Engineering Honor Society. She is also an active member of the following organizations: Society of Hispanic Professional Engineers, Society of Women Engineers, Institute of Industrial and Systems Engineers, and the USF Tennis Club.
Future aspirations: Julia's main career goal is to decide which field of industrial engineering she would like to pursue upon graduating. Julia is confident an operations internship with Raytheon this summer will provide more exposure and knowledge about the supply chain. If she enjoys the manufacturing side of industrial engineering, she will pursue it. She will also continue pursuing engineering internships and co-ops to gain more knowledge and experience. Julia will attend engineering events sponsored by various clubs on campus to assist with networking and fine-tune her career plans. Ultimately, she would love to work for a company that shares her values and whose products positively impact people's lives.
---
2021-2022 Scholarship winners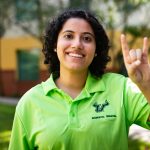 Natalie Nagib
Major: Biomedical Sciences
Hometown: Toronto, Canada
Graduation Year: 2022
Campus Involvement: I am currently the President for Sigma Alpha Lambda, a Resident Assistant (RA), the Community Chairperson for Foundation of International Medical Relief of Children (FIMRC), a Peer Advisor Leader (PAL), and a Calculus/Chemistry/Biology/Microbiology Teaching Assistant (TA).
Future aspirations: I plan to attend medical school and eventually work for Doctors without Borders and serve underserved populations abroad. I aspire to serve those who are affected by health disparities in the US and internationally and bring a preventative public health approach to the medical field.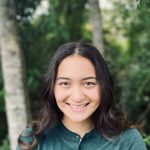 Tyelyn Brigino
Major: B.S. Chemistry
Hometown: Tampa, FL
Graduation Year: May 2021
Campus Involvement: I am currently involved in the USF Student Green Energy Fund Tree Mapping Project as the Principal Investigator. My responsibility is to map the trees on the USF Tampa campus to determine the ecosystem benefits for our urban forest. I am also involved in undergraduate research with the USF Ecohydrology Research group. I have been working on determining groundwater support in streamflow in salmon-bearing streams on the Kenai Peninsula Lowlands, Alaska.
Future aspirations: I plan to attend graduate school in the Fall at USF to pursue my M.S. in Geology. I also plan to continue my research in Alaska.
---
2020-2021 Scholarship winners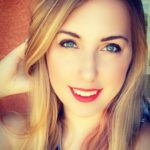 Sarah Dietrick
Major: Chemistry – PhD Candidate. Obtained a B.S. in Chemistry at University of Colorado, Colorado Springs (UCCS)
Hometown: Aurora, Colorado
Graduation Year: Expected PhD. Graduation: 2023
Campus Involvement: Secretary of the Chemistry Council of Graduate students (C-CoGS), Marine Biology Club, The Chemistry Society, and Scuba Jew
Future Aspirations: To work at a coral research facility. Sarah wants to conduct dive research to work on the restoration and conservation of coral reefs, either in Florida or on a global scale.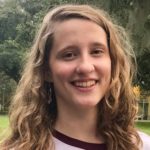 Eve De Rosa
Major: Biomedical Sciences
Hometown: North Syracuse, NY
Graduation Year: 2022
Campus Involvement: Residential Education, Biology Club, Crafts Club, and the Judy Genshaft Honors College
Future Aspirations: Eve is looking forward to working on a Master's degree and eventual PhD in medical research