Mentoring Women in Politics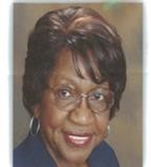 Representative Reed (an inaugural Tampa Ribbon of Honor recipient) offered a very inspiring program titled " The Road to Mentoring Women in Politics". Representative Reed stressed the importance of having women in the legislative branch to make an impact on the discussion of issues that pertain to issues that pertain to women's needs or challenges. Representative Reed is developing a formal mentorship program that is designed especially for women wanting to become elected officers in their communities. Public Policy Officer, Irene Bembry will keep members informed as to the progression of this program.
Teleconference Book Clubs
Sherry Foecking has taken on the challenge of the first Tampa Teleconference Book Club. Call in from the comfort of your home, put the phone on speaker to enjoy the discussions and the camaraderie. You may reach Sherry at sherjo18@yahoo.com.
Carla Carten has also accepted the challenge of beginning a Tampa Teleconference Book Club.  Carla will be putting out an offering very soon. You may join one or both. You may reach Carla at carlacarten@verizon.net or at 216.647.3973.
The Tampa AAUW Players
The Tampa AAUW Players presented the skit of " Twas the Night Before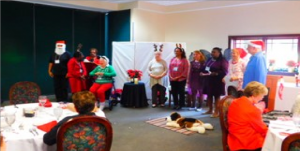 Christmas with a Twist" on December 18th. The players were: Dad-John Chaplick, Mom-Avis Chaplick, Mouse-Sherry Foecking, Sugar Plum Fairies- Aleseya Pinkney and Shannon Ledbetter, Reindeer, Irene Bembry, Jacqui Vento, and Carla Carten, and Kirk Guillory as Saint Nick.
People and Places Study Group
offers members a means of nourishing their minds, body, and spirit. Programmimg has featured AAUW supporters and community notables such as Catherine M. Lynch, MD, Distinguised Professor& Associate Vice President, College of Obstetrics & Gynecology, University of South Florida; and Velva Lee Heraty, author of The Dream Belongs to the Dreamer; author and historian Doris Weathford, recognized for her work in women's history. Her latest book They Dared to Dream: Florida Women Who Shaped History, was published in 2015.
Additionally, the Tampa branch's only male member John Chaplick, locally acclaimed author, has spoken to the membership on several occasions. At a conference for Florida writers, John was awarded first place for his book, The Rivergrass Legacy. Also, John authored the novel that placed as runner-up , Bridge of the Paper Tiger.
Read more about John Chaplick's AAUW story here.
---
2016 Scholarship Fundraiser
The 2016 Annual Scholarship Fundraiser Luncheon was held at the Temple Terrace Golf and Country Club in Tampa, Florida. This year Dr. Susan MacManus, Distinguished Political Science Professor, University of South Florida was the guest speaker. Other features were a sale/display of member and award winning author John Chaplicks's novels and awaeds and a jewrly sale.
Below are scenes from the successful event :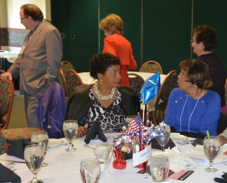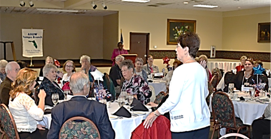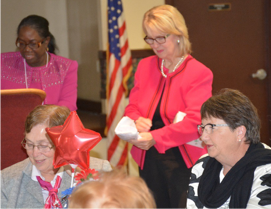 ---